| | | |
| --- | --- | --- |
| Office | Address | Telephone |
| Cannington | 102 Peace Street | 705-432-8449 |
| Orillia | 3 Progress Drive Unit 7 | 705-329-2570 |
contact@wgscma.ca

Professional Services Offered
Professional Services At A Glance
Brock-Simcoe Accounting Professional Corporation offers a wide array of professional services to our clients. Services include:
Income Tax & Reporting for individuals, corporations, non-profits, and charities
Accounting & Bookkeeping services for small and medium sized businesses
Financial Statement preparation
Business budgeting, forecasting, and review services

NEW

Payroll services for small and medium businesses
Compliance and reporting services including GST/HST, WSIB, and more
Professional consulting and advisory services
Many more services offered to individuals, businesses, and non-profit organizations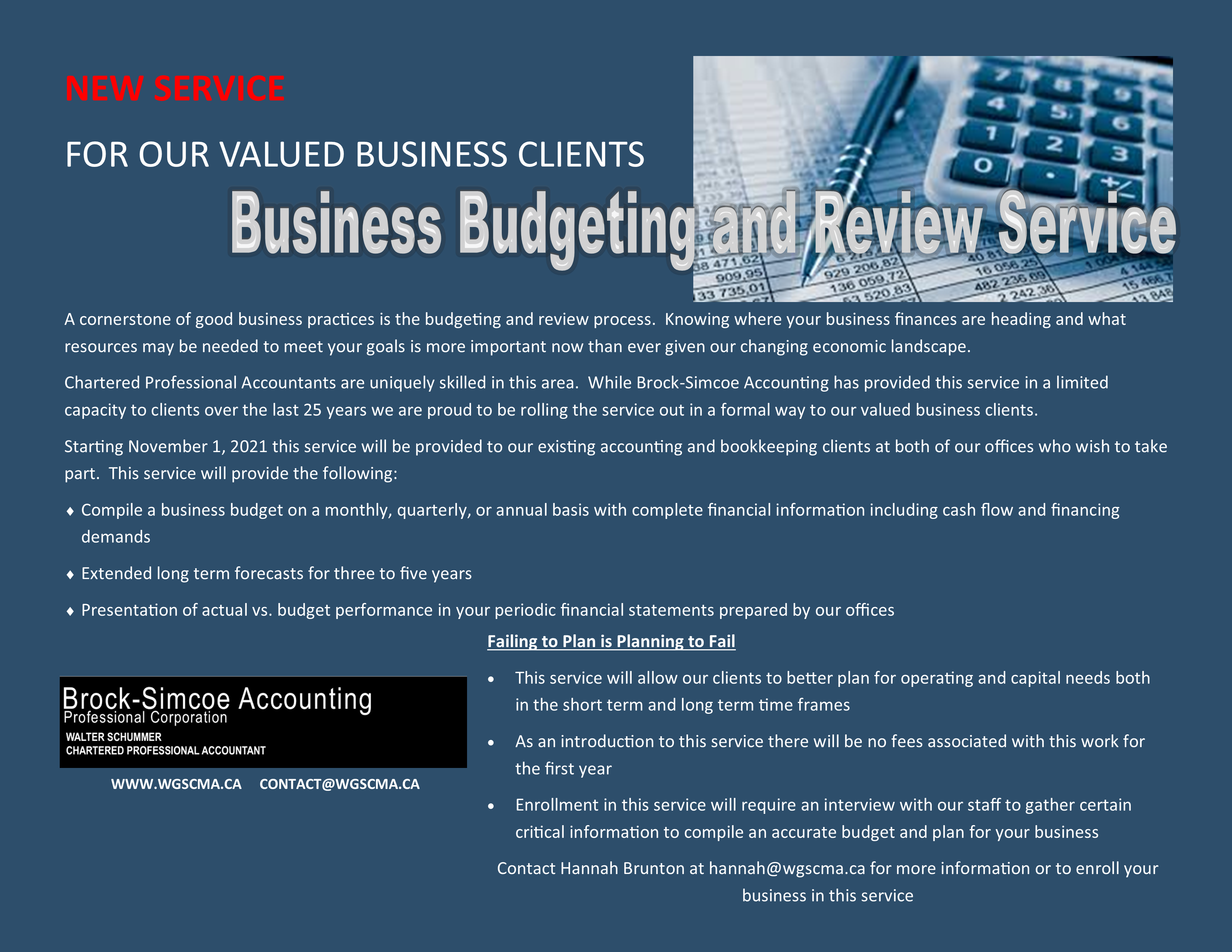 New service offered to our business clients.
Budgeting and Review Service
Personal T1, Corporate & Non-Profit T2, Charitable Returns, US 1040, and other government tax reporting. Assistance in compliance for overdue filings. Returns professionally prepared including self-employment, partnerships, employment expenses, and others. Many returns are electronically filed with CRA (where permitted)
Accounting & Bookkeeping Services
More than simple bookkeeping. Our staff makes certain that your periodic reporting and accounting is accurate and gives you a real measure of your business activities. We tailor the bookkeeping and reporting to suit your needs and budget. You receive professionally prepared financial statements so that you can know how you are performing.
So you have a couple of employees or perhaps you have a few dozen. We can assist you with your payroll processing. We provide as much or as little assistance as you need. We can assist you in keeping compliant with Provincial and Federal requirements for your payroll activities. Whether it is just periodic payroll reconciliations and tax slip filings or complete computerized paycheque processing... we can help you.
We can help you maintain compliance for your various government reporting requirements. Whether it is GST/HST, WSIB, EHT, or the many other government reporting mandates we can help
Business Budgeting, Forecasting, and Reviews NEW
Planning and budgeting is essential for any business to succeed. We can help you by developing budgets (short and long term). Periodic reporting of budget variances help you assess your progress. Planning for financing requirements.
Professional Consulting Services
There is more to managing your business than just bookkeeping and tax returns. We can help you understand your business processes and finances. We can assist you in establishing budgets and cash flow projections, internal control systems, business modelling, and more.
Estates and trusts can have their own income tax and reporting requirement issues. We may be able to help you deal with the unanticipated issues confronting many estate trustees.
Whether it's a CRA personal income tax pre or post-assessment review, a personal income tax audit, a corporate tax audit, GST/HST audit, payroll audit or other such event we can help. While many audits are routine and nothing to get too worried about it's always best to consult a professional beforehand to plan how to deal with an audit. We can help to whichever level you see fit.
There are many issues which require the assistance of other team members. Our office can assist you in finding the best fit for tasks outside of our services. Should you require legal assistance, financing assistance, investment counselling, or other professional help we can provide recommendations. It's then up to you to decide which of the professionals we recommend are the best fit for your circumstances. Our firm does not accept any form of commission or other remuneration for recommendations to other service providers.

We can provide assistance in other areas not listed here including things like business startups, business acquisitions or sales, personal budgets and financial plans, medium to long term tax/financial planning, and more. Give us a call and we'll be happy to discuss these or set up a convenient appointment.